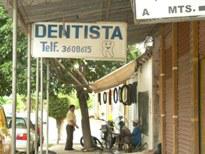 Bolivia is one of the poorest countries in South America. It is a country of huge variations, ranging from tropical forest in the lowlands to high plains over 6000 metres up. It can be sweltering hot in one area of the country while snowing in another. The people also are varied, being made up of Aymara, Quechua and other native tribes, and people of European descent who culturally are very Spanish. The main cities are La Paz, Sucre, Cochabamba, and Santa Cruz.
Outside the cities are shanty towns with high unemployment with many people struggling just to get enough food to survive on. Many children work, going down mines, working the land, being assistants on buses, being domestic staff, and flogging stuff in the street.
Our project in Bolivia has concentrated on two main areas, the poor in Santa Cruz, and the poor children on the cold high plains. In Santa Cruz we have concentrated on getting children into school and then equipping them with a college education. For example one of our students graduated in biochemistry and got herself a good job that she was then able to sponsor her brother to study agronomy at university. On the high plains we have concentrated on enabling families to take in orphan children living on the streets, to give them care, an education and a future.